RAL 9016 - Traffic white

RAL 7024 - Graphite grey

RAL 7040 - Window grey

Pictures above:
Standard colours
for the turbolifter 1316 *
* Further colours optional
The turbolifter 1316
In contrast to model 933, model 1316 requires somewhat more space. However, the lift has room for up to three passengers and is also ideal for wheelchair users, with or without an accompanying person.
Joint fittings specifications for both models
These specifications apply to both the turbolifter 1316, and for the turbolifter 933.
Number of floors possible: up to 6
Standard split: split head
Power supply 220 V/50 Hz
Engine power upwards: 7700 W
Engine power downwards: 400 W
Speed of travel: 9 m/min (15 cm/s)
Fittings: cabin lightning
Cabin ventilation
Cabin telephone
Cabin overload protection
System safety: Emergency alarm
Automatic emergency brake
Automatic lowering in case of power cuts
Cabin power 24 V
The system is suitable solely for indoor use!
Specifications that differ from the model 933
These characteristics apply only to the turbolifter 1316
System outer diameter: 1338 mm
Module height: 2340 mm
Cabin inner diameter: 1118 mm
Cabin inner height: 2005 mm
Cabin weight empty: 196 kg
Module weight for each floor: 165 kg
Weight of connecting elements: 80 kg each
Load capacity: 238 kg
Maximum number of passengers: 3
Standard colours for the 1316 model:
RAL 7024 - Graphite grey
RAL 9016 - Traffic white
RAL 7040 - Window grey
Declaration of conformity for all turbolifter lifts:
CE certification in line with Machinery Directive 2006/42/EC
Standard: pr EN 81-41
Electromagnetic authorisation EN 55011
Image below: Vertical sectional view of the turbolifter 1316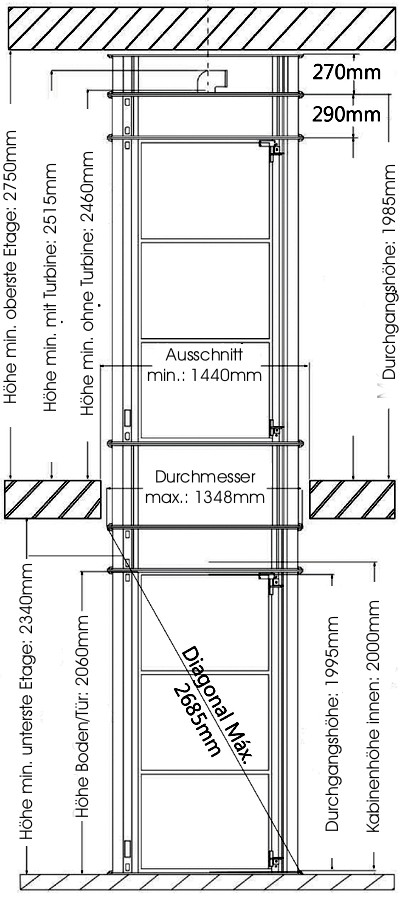 Image below: Horizontal sectional view of the turbolifter 1316